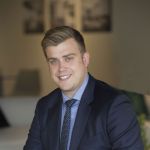 About
Rhys is a fully licensed estate agent bringing with him 5 years' real estate experience across different facets of the industry, having completed his real estate apprenticeship in property management he then moved into business development which has bolstered his organic transition into Sales. He is a third generation real estate agent with his father Tom Afford a local known identity in the Essendon district who worked for Anderson's, Youngs (The Professionals) and Brad Teal over his 20+ years in the industry. His grandfather had his own successful agency in the 60's in the South Eastern Suburbs.
Rhys attended Overnewton College in Keilor and has grown up in the Essendon area. He currently lives locally with his wife and two little dogs in Pascoe Vale. When he isn't in the office or conducting opens you can find him enjoying local restaurants/cafes or in local parks/gardens walking the woofers.
Rhys' professional yet outgoing nature makes him very approachable and a pleasure to do repeat business with.
Contact